Coca-Cola YO-YOs
Trade, Buy, Sell or just have a look around.
Welcome.
I have been collecting Coca-Cola memorabilia for most of my life which includes many Coke, Fanta and Sprite yo-yos from all over the world.
If you would like to buy, sell or trade send and email.


Many Coke yo-yos and collectables are listed at
The time has come to sell my collection.
I have many yo-yos, and related items not yet listed so if you are after anything in particular email me or see what I have on ebay - user name Bellascollectable.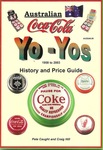 Back in 2003 I cowrote an Australian Coca-Cola Yo-Yo History and Price Guide and included estimates for pricing. Some of these may be a little out of date but the Guide is still a valuable tool that every collector should have. It includes previously unknown information about release dates and competitions and every yo-yo shown in colour photographs.
This Guide sells on eBay for hundreds of dollars but I have copies left over from the original print run.
Email me at Bellascollectables@gmail.com for a copy. New and unused.

Only $80 Aud
Email Bellascollectables@gmail.com to get your copy.